Ceremonial Signing of MOA with Nestlé Philippines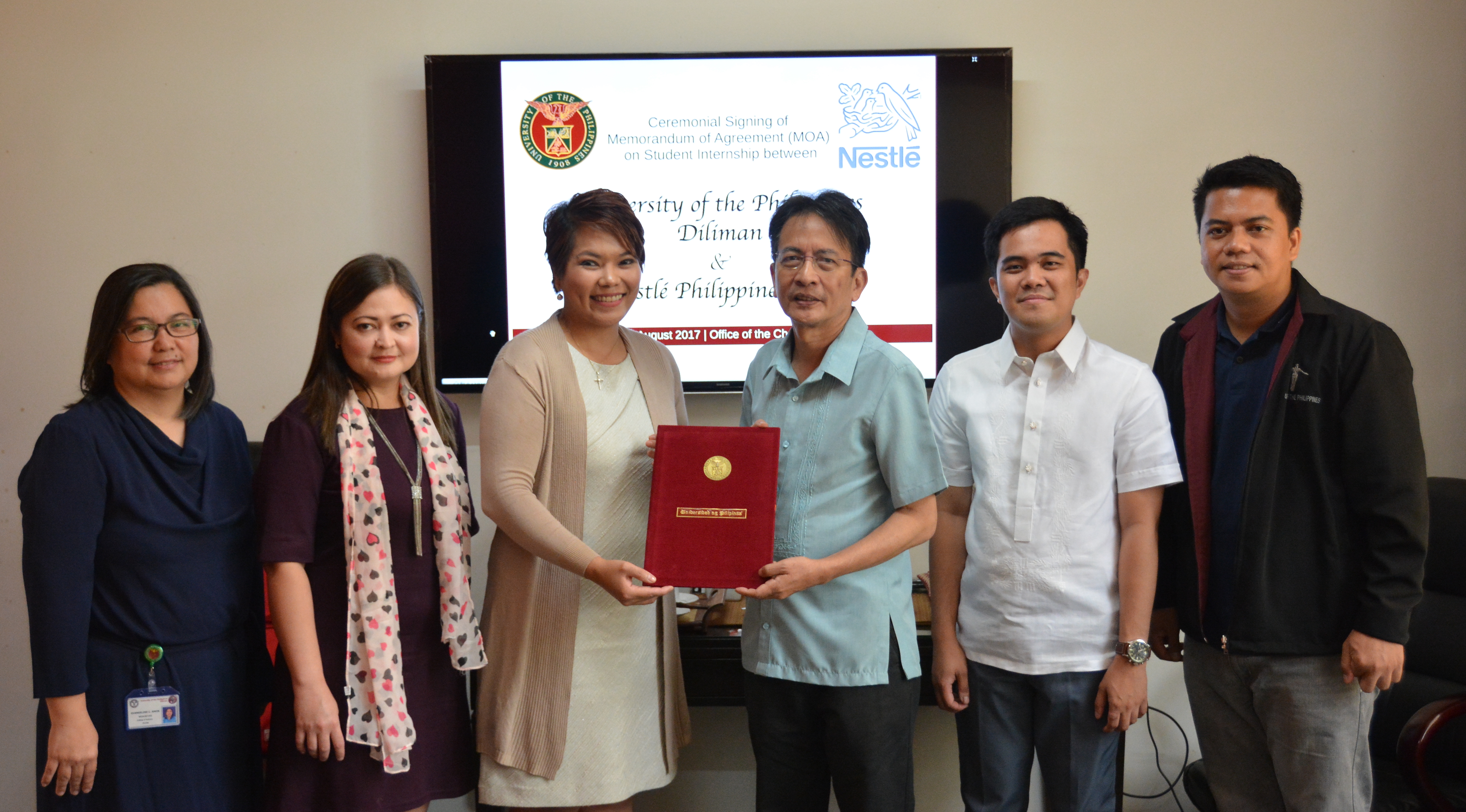 The University of the Philippines Diliman (UPD) and Nestlé Philippines, Inc. entered into a Memorandum of Agreement (MOA) on Student Internship. To formalize the partnership, a ceremonial signing was held last 29 August 2017, headed by Prof. Christian R. Orozco, Director of the Office of Field Activities (OFA) Diliman, at the Office of the Chancellor Conference Room, Quezon Hall. The agreement was signed by Chancellor Michael L. Tan and Ms. Hannah de Lumen, Talent Acquisition and Development Head of Nestlé Philippines, Inc.
Witnessing the event were Dr. Evangeline C. Amor (Vice Chancellor for Academic Affairs), Prof. Jerwin F. Agpaoa (Vice Chancellor for Student Affairs), and Ms. Mary Grace Dandan (Talent Acquisition Executive, Nestlé Philippines, Inc.).
---
Academic Program Improvement (API) Project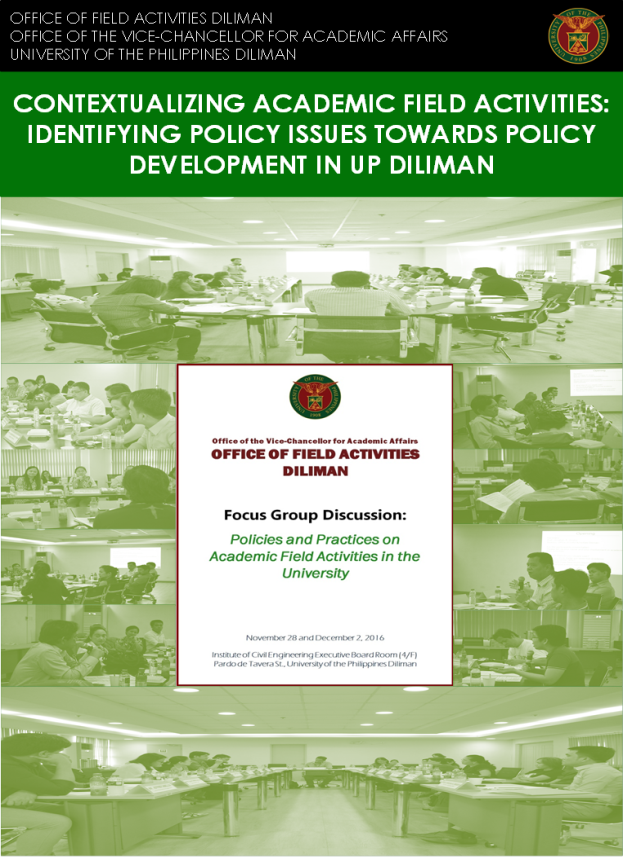 In 2016, OFA Diliman has implemented an Academic Program Improvement (API) Project that aims to contextualize AFAs in the University. An inventory of courses in UP Diliman with AFAs (based on the earlier survey conducted), and series of focus group discussion with selected academic units handling AFAs were implemented to collect the necessary data for this API project. Four rounds of focus group discussions (FGDs) were held last 28 November 2016 and 02 December 2016 to discuss the guidelines and practices in handling various types of AFAs among colleges and academic units. The FGDs served as a follow-through of the 2015 survey on AFAs.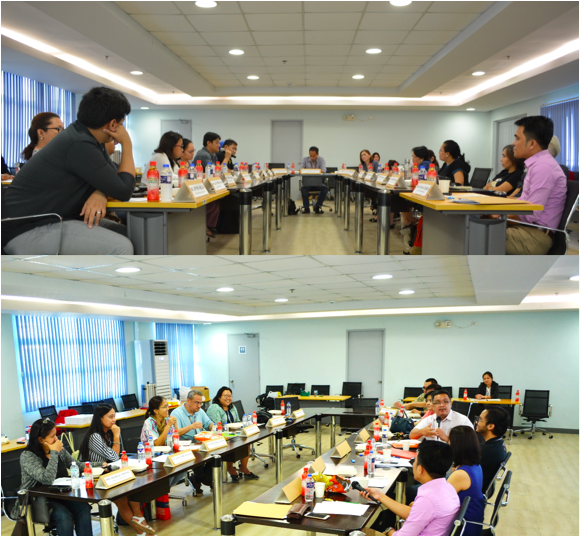 ---
Balangkas 2016: Symposium on Best Practices in Academic Field Activities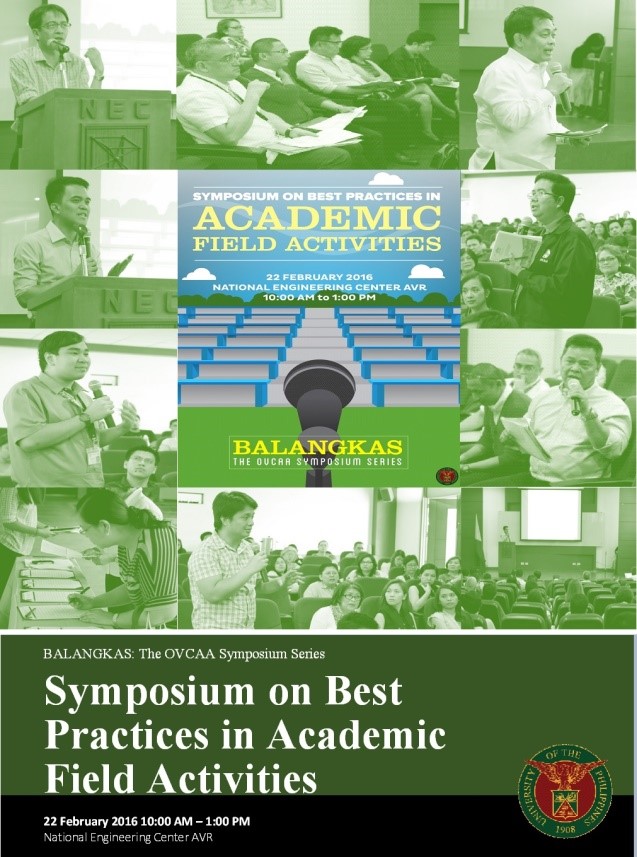 The Symposium on Best Practices in Academic Field Activities is the fifth event in the OVCAA's Balangkas Symposium Series. The symposium was geared towards gathering inputs from presenters and participants for a common overarching framework that would ensure safe and relevant conduct of academic field activities in the University. It was held on 22 February 2016, 10:00 AM to 1:00 PM at the National Engineering Center Audio Visual Room. A total of 69 participants from different Colleges and Academic Units attended the Symposium.