More than half a decade after the unit was institutionalized, the Office of Field Activities (OFA) Diliman launched its inaugural logo on June 6, 2022, in an effort to increase the visibility of the Office and to raise awareness of its functions and mandate among the U.P. Diliman community.
The new OFA Diliman logo aimed to contribute to establishing the Office's visual identity as previously, the emblem used in official communication materials was a plain black-and-white outline of the U.P. Diliman Logo. The Office then lacked a distinct brand identity and was not easily identifiable. Hence, the logo, with the acronym of the Office in bold blue typography, was designed in such a way that stakeholders would recognize and would have an easy recall on the administrative unit that ensures the safe and relevant implementation of short- and long-term academic field activities (AFAs) in the University.

The new visual identity signifies not only a fresh look, but also a committed vision for the 6-year-old Office. In June 2021, OFA Diliman conducted a study that aimed to assess the Knowledge, Attitudes, and Practices (KAP) of U.P. Diliman Stakeholders on Academic Field Activity Policies. The qualitative study which engaged administrators, faculty-in-charge, and administrative staff, observed high awareness of the respondents on the name of the Office, but low to moderate awareness of the functions of OFA Diliman. As a relatively young unit, the results of the KAP study motivated the Office to ardently spread its mandate and heighten appreciation for policies and guidelines on AFAs that prioritize the safety and well-being of the students while learning beyond the conventional classroom setting.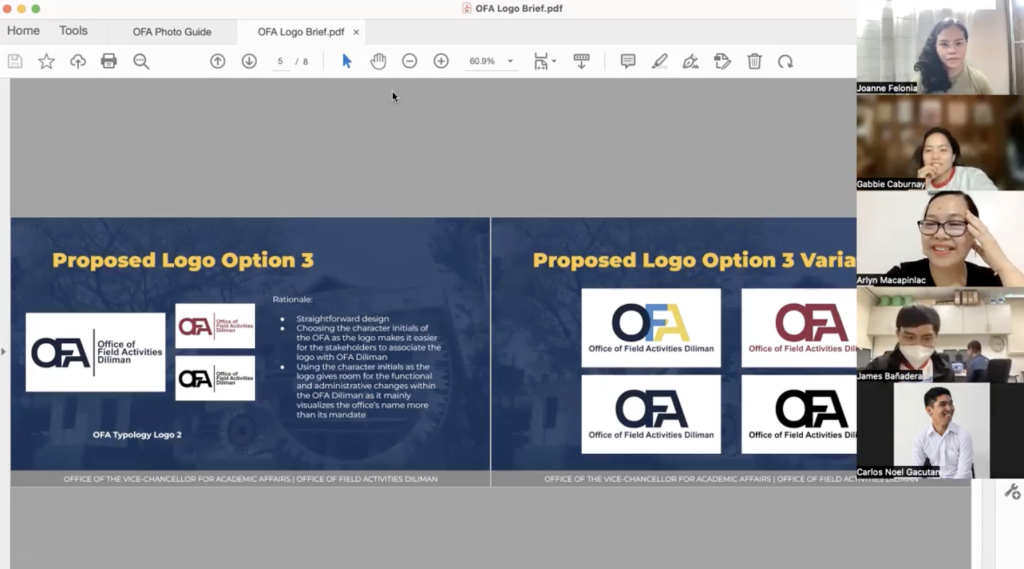 Recommendations from the KAP research indicated the need to increase stakeholder awareness among the U.P. Diliman Community on OFA Guidelines and policies. The global pandemic may have created a shared notion that the conduct of AFAs was completely prohibited, consequentially decreasing the number of AFA requests from the academic units. While the implementation of face-to-face AFAs was temporarily halted during this time, the University adapted to the context by developing suitable guidelines for the students to continue experiencing AFAs, albeit virtually or remotely.
The unveiling of the new logo is one of the several initiatives OFA Diliman has undertaken to strengthen its presence and continue upholding its mandate in the University.